Queer Conversations is on hiatus until Fall 2023
Queer conversation is a part of the LGBT Resource Center's educational programming. Based in dialogue and knowledge sharing, Queer Conversations creates a space for LGBTQIA+ students to explore the intersections of gender, sexuality, and race. In community and in collaboration with campus partners, these discussions dig in to the ways queer liberation and racial justice are tied together.
June 2022: Patsy by Nicole Dennis-Benn
About The Book
Patsy is ultimately a novel about searching for home, but for a queer, undocumented, dark-skinned woman like Patsy home is not so much something you find as much as it is something painstakingly carved out of places you aren't accepted. In Dennis-Benn's crticially acclaimed novel, we follow Patsy and her daughter, Tru, across multiple decades as they both grapple with questions of identity, colonial ideas of gender and sexuality, familial expectations, and the complexity of their own mother-daughter relationship.
Patsy is desperate to leave her small community of Pennyfield, Jamaica. After receiving letters from a childhood friend and former lover living in New York, it seems like her chance to pursue a life where she can be, and love, whomever she wants is finally within her grasp. Patsy leaves her family--including her five-year-old daughter, Tru--behind as she travels to America hoping for the new start she's dreamt of. However, once she arrives she realizes the "American Dream" isn't meant for someone like her. Meanwhile, back in Jamaica, Tru struggles to understand and empathize with her mother's decision, while also contending with her own challenges as a gender-nonconforming athlete in Pennyfield.
About the Author
Nicole Dennis-Benn was born and reaised in Kingston, Jamaia and currently lives with her wide and two sons in Brooklyn, New York. She holds a Master of Public Health from the University of Michigan and an MFA in Creative Writing from Sarah Lawrence College. She is a two time Lambda Literary Award Winner for her debut novel Here Comes the Sun and sophomore novel Patsy and is also a recipient of the National Foundation for the Arts Grant. NPR names Dennis-Benn "an indispensible novelist" and Time Magazine celebrates her as an author who "fills a literary void with compassion, complexity, and tenderness."
Themes & Topics
The book and book club meetings may include (but aren't limited to) conversations about any of the following:
Coming into one's gender and sexual identities
(reluctant) Motherhood
Immigration and being undocumented in the U.S.
Colorism
Isolation and belonging
Desirability politics
The book also explicitly or implicitly addresses some of the following content: sexual harassment, sexual violence, racism, homophobia, suicide
July 2022: The Undocumented Americans by Karla Cornejo Villavicencio
About the Book
Part series of poignant essays, part memoir, Karla Cornejo Villacicencio's The Undocumented Americans challenges the usual binary of "good" or "bad" immigrant stories we so often see in reporting on immigration in the United States. Right after the 2016 presidential election, Cornejo Villavicencio wrote her immigration lawyer's phone number in Sharpie on her hand and set off on a trip across the country to tell the stories of her fellow undocumented immigrants.
The Undocumented Americans explores the experiences and lives of the undocumented in all their complexity, tackling topics that have historically been absent from modern journalism and literature. Cornejo Villavicencio introduces us to a support group for the undocumented workers who cleaned up Ground Zero after 9/11, to those in Miami providing medicinal herbs to those who cannot otherwise get healthcare, to immigrants in Flint, MI denied clean water without state ID, to her own story of finding family in two teen girls whose father is in a sanctuary, and many, many more.
In collecting each story, Cornejo Villavicencio masterfully crafts honest, full portraits of what it means to be undocumented in America.
About the Author
Karla Cornejo Villavicencio was born in Ecuador and raised in New York City. She is a writer whose work on music, beauty, mental illness, and immigration can be found in The New York Times, The Atlantic, The New Republic, Glamour, Elle, Vogue, n+1, and The New Inquiry, to name a just a few. The Undocumented Americans is her first book and was a National Book Award finalist. She was one of the first undocumented students accepted into Harvard University and is now a Ph.D. candidate in American Studies at Yale University. She lives in New Haven with her partner and their dog.
Themes & Topics
The book and book club meetings may include (but aren't limited to) discussions on the following topics:
Immigration and undocumented/DACAmented experiences in the U.S.
Immigration policies and legislation
Mental health
Assimilation
Countering stereotypical narratives
Intersecting privilege and oppression
The book also explicitly or implicitly addresses some of the following content: alcoholism, self-harm, mental illness, racism, xenophobia, death
Previous Queer Conversations Series
Spring 2022: Decolonizing Gender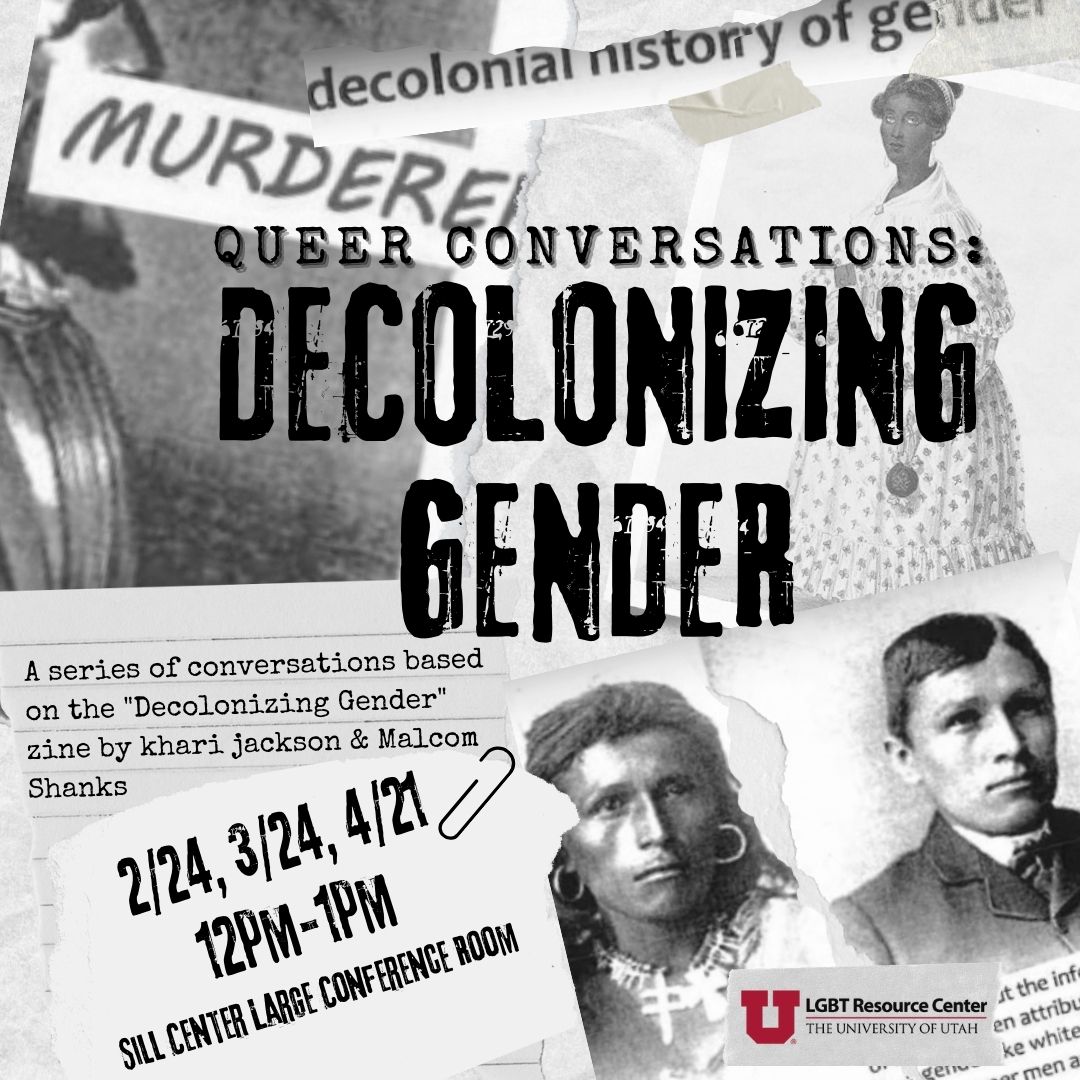 Join us this Spring semester as we engage with campus and community partners in a series of three conversations based on the "Decolonizing Gender: A Curriculum" zine by khari jackson and Malcom Shanks. These conversations will explore the roles colonialism and white supremacy play in the modern day gender binary, what it means to "decolonize" something like gender, and what a future free of the binary could look like.
How to Participate
Queer Conversations will be in-person this semester, and food will be provided for participants! These events are open to all students at the University of Utah. Participation at all three conversations is not required, but we encourage you to join us as often as possible to build on previous discussion and strengthen our community. We will gather together once-a-month on Thursdays at noon in the Sill Center's large conference room. Save the dates below and be sure to RSVP here or the link below to receive reminders about the events and to get special access to additional resources and a private Queer Conversations Discord channel located on the LGBT Resource Center's server.
Save the Dates!
February 24, 12pm-1pm

March 24, 12pm-1pm,

April 21, 3pm-4pm - MEETING TIME UPDATED
Fall 2021: Where Is Black in the Rainbow?
In Fall '21, we are collaborating with the Black Cultural Center to host three Queer Conversations asking: Where is Black in the Rainbow? Join us via Zoom in this monthly series as we tackle topics such as Black queer history, navigating marginalized identities that often feel at odds with each other, addressing anti-Black racism in the LGBTQIA+ community, and more. Register at the link below! The first 10 students to join each conversation will receive a DoorDash giftcard for their contributions to these conversations.
How to Participate
Queer Conversations is open to all students at the University of Utah. To participate in this semester's conversations, register to receive a Zoom link and reminders. Participants do not have to attend all three conversations, but are encouraged to join as often as possible to build on previous discussion and strengthen our community. This fall's dates are as follows:
September 21st, 12:00pm to 1:30pm
October 19th, 12:00pm to 1:30pm
November 16th, 12:00pm to 1:30pm