Welcome to the 2021 Lavender Graduation online yearbook!
In this yearbook, you will find profiles of Lavender Graduates and messages to graduates from university leadership.
Lavender Graduation is an annual ceremony honoring graduating Lesbian, Gay, Bisexual, Transgender, Queer, Questioning, Intersex, Asexual/Aromantic, and Ally students. Lavender Graduation was created by Ronni Salo in 1995 to address the erasure of LGBTQ+ students and families from graduation ceremonies at that time. Today there are Lavender Graduation ceremonies at hundreds of universities and colleges across the U.S. We have been celebrating Lavender Graduation at the U since 2004.
While we could not celebrate in person this year because of the pandemic, this virtual celebration was created in the spirit of Lavender Graduation: an act of resiliency to make space for LGBTQIA+ people where there was not space before. We recognize the many ways LGBTQIA+ students make our campus a better place through their scholarship, leadership, and community. Graduates name those who helped them get to this moment: friends, partners, family, mentors, professors, student leadership organizations, support staff, faith leaders, supervisors and co-workers, classmates and cohort mates. Lastly, we know there are many who cannot openly participate in a ceremony for LGBTQIA+ graduates and this celebration is for you, too. Know that we are thinking of you as you reach this milestone, and our pride extends to you, even if you cannot publicly participate in this celebration.
For all Lavender Graduates both named and unnamed, we celebrate you as part of our LGBTQIA+ community at the U, and we'll keep cheering you on as you move into this next chapter of your life. We are so proud of you!
We invite you to get caught up in the spirit of Lavender Graduation! Enjoy the graduate profiles and the messages from university leaders. Follow us on social media to see real-time recognitions and shout outs to graduates. Create your own celebratory social media posts to honor your graduation, using custom GIF stickers (search the keyword "UofULavGrads" on any platform that uses GIPHY) and hashtags #UofULavGrads and #EDIgrads2021
We present the 2021 Lavender Graduates!
Class of 2021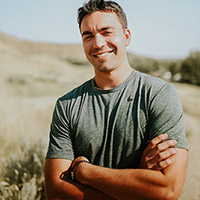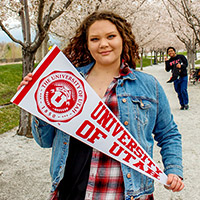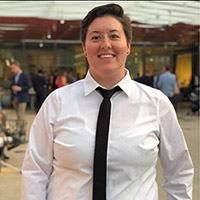 Adrienne Krueger
HBA, Art History
BA, International Studies
I'll put myself back in academia purgatory for an MA or Ph.D. in Art History, but I need a break first. I'm hoping that I can work abroad for a few years in the meantime!
I'm so grateful to all my friends who got me through covid and all my professors who encouraged me and guided me every step of the way.
Abrielle Fulwider
HBS; Health Society & Policy
I hope to pursue social work and/or public health! I aspire to make our health systems more accessible and equitable for all.
I want to share my gratitude for my partner and all of my incredible friends who have supported me, loved me unconditionally, and encouraged me to be my authentic self every step of the way.
Alexander Whitty
BFA, Entertainment Arts and Engineering
Ana Ascencio
Political Science
Communication
My plans after graduation are to co tu he my academics and start a career in politics. As a LGBTQ+ Latina woman I believe there is much work to be done for my communities from representation to public policy and human rights advocacy. I will represent and walk with my community to bring a better tomorrow for our future generations.
Mom, I can't ever thank you enough for everything you have done for me and for your support through every step of my life. Te quiero mucho mom y esto solo es el principio. CSBS staff and advisors, Thank you for all your support through my undergraduate career. I can't thank you enough for the support I received as a student. Ally, my time as a CSBS ambassador was one of the best times at the U and thank you for your support academically and personally. You are the best!
Ashley Taylor
HS Grad
I couldn't have made it all the way to graduation without my wonderful group of friends and family. :)
Athena Schwartz
BS, Health and Kinesiology
Brighton Alvey
BS, Chemistry
I plan to attend medical school in the upcoming Fall semester at the University of Utah School of Medicine!
So many people have helped me on my path to graduation. I am incredibly grateful for the guidance, words of encouragement, and support from students and faculty in the department of chemistry, the advisors in pre-professional advising, and all of my friends and family. To name a few people that have helped me tremendously along the way - Tascha Knowlton & Emily Platt, Shelley Nicholson, Dr. Andrew Roberts and the entire Roberts research group, and all of my friends and family! Thank you!
Brooke Serrano
Master of Social Work
I am going to apply for my PHD! :)
Thank you so much to my family and friends for helping me through my master's degree!
Catherine Poggio
HS, Kinesiology
After graduation I plan on working as a Research Assistant/Analyst for the University of Utah's OB/GYN Department: Family Planning Division. My goal one day is to attend Medical School to become an OB/GYN.
Cyan Larson
Bachelor of Fine Arts
I plan to apply for artist in residence programs and hope to be accepted as an artist in residence.
I would like to thank Ella Blanchard for creating a safer and welcoming space on campus, for providing your invaluable time, wisdom, company, and advocacy throughout my academic career. I am grateful to have shared many memories, experiences, funny moments, and propaganda with you. I couldn't have made it to this point without you!
Elizabeth Porter
HBS; Health Society & Policy
BS, Operations and Supply Chain
Shortly after graduation I'll start my new role as an Operations Analyst at a financial tech startup company here in SLC. In a year or two I hope to be receiving acceptance letters for a Masters program where I can continue to my greatest passion — learning.
There are so many people from my college experience whom I am thankful for, but one who pushed me, believed in me, and supported me throughout the past four years is Taryn Horner. Taryn was my Solutions Scholars advisor. Thank you Taryn for all you did for me. Your care for my success was not just rooted in academic success but lifelong success. You were always a safe space for me, and I am forever grateful for that.
Em Smiley
BFA, Theatre - Acting Emphasis
After graduation, I will be promoting my album, "Dear Listener." I want to eventually move to Chicago. I love the theatre and music scenes there.
I'd love to thank my family -- particularly my parents, Dr. Erin Meyer and Stan Smiley -- for supporting and encouraging my artistic career choices. And thank you for paying for my college education. I won't ever be able to thank you enough. I love you both so much!!
Emily Albrecht
BA, English
Strategic Communications Minor
Enrique Sanchez
BA, Political Science
Gabe Misla
BA, Film & Media Arts
I hope to make films about queer BIPOC folks, specially from Puerto Rico where I am from. Independent filmmaking is hard, but it gives me space to portray powerful stories.
I want to thank my husband, Jarli Tijero, for all the headaches, crazy times, and stress I put him through while he was helping me and cheering me to complete this degree.
Grey Garrett
Biomedical Engineering
I would like to thank Shelby Hearn for giving me the opportunity to be a part of the ESLP program. It has truly given me such wonderful tools that I plan to use throughout the rest of my life. I would also like to thank Ruchi Watson, my advisor Heather Palmer, and my research mentor Nitish Khurana for all the help along the way. From science, to leadership, to community and beyond, I have learned so much. I truly cannot thank you enough for all the help!
Heather Graham
BS, Writing and Rhetoric Studies
Gender Studies Minor
A huge thank you to Dr. Christie Toth, Dr. Kim Hackford-Peer and Clint Gardner (SLCC), Michael Nelson, Christopher Saul, and my other wonderful friends. Without your endless support, guidance, and acceptance, I could not have gotten here or had the amazing experiences along the way. Thank you!
Indigo Mason
HBS; Health Society & Policy
HBS, Gender Studies
Sociology and Political Science Minors
After graduation, Indigo hopes to continue researching sexual wellness with a focus on nonbinary, genderqueer, and trans youth with an ultimate goal of becoming an AASECT-certified sex therapist specializing in gender-expansive care. Understanding the power of holistic sexual education has inspired them to ensure that future sexual health programs will leave no body behind in the curious pursuit towards sexual liberation.
Indigo would like to thank their mentors within the Family Planning Division who have wholeheartedly supported their undergraduate research interests and nurtured their coding and scientific writing skills. They are particularly grateful for the mentorship of Dr. Jessica Sanders passionately supported them throughout the creation of the Campus Contraceptive Care Clinic, the Pleasure Pack Delivery Program, and the publication of their Honors Thesis, "Evaluating, Implementing, And Supporting Adolescent Sexual Health Programming At The University Of Utah" Additionally, they would like to thank Dr. Kyl Myers, Courtney Lane Spaulding, Madazon Can Can, Caleb Rutkowski, FaithFox Staley, Jennifer Salazar, Dr. Darius Bost, Dr. Bethany Everett, and Dr. Claudia Geist: you have lit up my world with the immense potential that is queer love and joy - may it return to you, tenfold.
Javante Watson-Hall
MEd, Educational Leadership & Policy
Jessica Hernandez
MEd, Educational Leadership and Policy - Student Affairs Emphasis
Dear Clare, Shelby, Bree, Moani, and Trey, thank you for choosing me to be your Grad Assistant at the LGBTRC. I could not havemade it through these past two years with out this amazing staff by my side; my time with y'all has been incredible and I will cherish it forever. (Love that for me!)
Kailey Gavensky
Bachelor of Fine Arts
Thank you to all who have supported me on this journey and my wonderful fur baby Nox :)
Kenny Taboada
MEd, Education Leadership and Policy - Student Affairs Emphasis
I would like to thank everyone who was part of my grad school journey, including my roommates, my friends, my cohort, the faculty,my supervisors, and of course my parents. I wouldn't have been able to get through this without their support and encouragingwords.
Leila Salari
BA, Film & Media Arts
I have created a film production company called Disco Dino Productions, it highlights LGBTQ+, BIPOC, and underrepresented groups in film & media. I also recently started a documentary series called "Operation Woke" You can find a current portfolio on discodinofilms.com.
I'd like to thank Miriam and Sonia Albert Sobrino, aka The Also Sisters. They are great mentors and helped inspire me to start my company as well as always support my filmmaking. They are always aware of new and upcoming trends, societal changes, and are constantly evolving as filmmakers and professors to make sure they are inclusive of everyone. I have really appreciated their input and mentoring with my projects over the course of my college career.
Libna Noor
Psychology and International Studies
I hope to provide smiles to people
I'd like to thank Feleti Matagi, Kari Ellingson, Anthony Shirley thank you for believing in me, supporting me and seeing something hopeful in me I didn't see myself.
Lou Ruegner
Gender Studies
Music Tech Minor
Thank you to Kim Hackford-Peer, Mike Cottle, all of the professors I've had classes with through the Transform College, and the U Student Media Offices for your mentorship and support <3
Louise Fuller
BS, Anthropology
History Minor
American Indian Studies Minor
I am relocating to New Orleans to teach and strive for equitable, non-racist education. I can't wait to share my loves of reading, writing, and history with my future students!
Thank you to Shawn, Alan, Tyler, Joan, and Shannon & all the staff at NHMU for making my anthro years fun and full of research and new skills. Thank you, Thomas, Dr. Archuleta, and Werner for changing my life and opening my eyes in a new way; Paula, for helping me remember how much I love to write; and pretty much every other professor I've had for their patience and passion. To my dear friend Kiela-- I wish you were around to celebrate this milestone with me. I miss you. All my living friends and family who encouraged me and went through it with me: cheers, and I'll miss y'all lots when I move to NOLA!
Marisol Padilla Fragosso
Health Society & Policy
Spanish Minor
Disability Studies Minor
I want to be an advocate for change, especially within healthcare.
My parents, siblings, and significant other helped me out a lot. They rejoiced with me on the good days and were there for me on the bad days. They were patient and loving. I have learned so much from my professors, advisors, the Women's Resource Center, and my coworkers. They expanded my world and made me more aware of what was going on around me.
Mason Hardy
BS, Communication
I want to thank my amazing husband for his constant support and love! My family for loving me unconditionally and supporting me through my journey.
Moani Tuitupou
BS, Applied Mathematics
I would like to thank my family and friends for supporting me through this unique college experience. I would especially like to thank Jessica, Trey, Clare, Bree, and Shelby for being such amazing coworkers and friends at the LGBT Resource Center. I will miss all of you and the incredible opportunity I had to work there.
Molly Wittington
Marketing
Natalie Colbert
Master of Social Work
I'm moving to Oregon with my girlfriend later this year and am planning to work as a school social worker there. I want to help lgbtq+ students in schools specifically, and be a role model as a queer adult to them.
I have to thank my sweet girlfriend for being there and supporting me throughout my time at the U. During the application, acceptance, and my entire program being online and all the stress that is grad school she was always my number one person keeping me going.
Rachel Molinari
Master of Business Administration
I would not have made it through the PMBA program without the love and support of my family, especially my partner, Bree.
Ray Kenney
Master of Education
Sara Kenrick
BA, Film & Media Arts
I hope to learn more about myself and my identity after college. Being around such wonderful people has definitely given me a head start and I hope to continue that journey.
I want to thank the Film Production Club for giving me the community I needed to feel confident whilst creating.
Shelby Cattani
HBA, International Studies
Anthropology Minor
Sophia Perez
Biology
Chemistry Minor
I want to become a PA and work at community clinic so I can help the community around me!
Spencer Whiteley
MEd, Educational Leadership and Policy - Student Affairs Emphasis
Tom Roche
Bachelor of Fine Arts
Wade Horbinski
PhD, Chemistry
Thanks especially to my sister, who was always there for me at all hours day and night to get me through the many challenges I faced, no matter how big or small.
Brian Truong
MS, Information Systems
Christine Posvistak
Master of Public Administration
I hope to work in higher education so I can help students like me to be successful in their collegiate education.
Christopher Nielson
BS, Chemistry
I'll be pursuing my PhD in Chemistry at Emory University. I'm very excited to move to Atlanta with my boyfriend and start a new adventure!
I'd like to thank my advisor, Natascha Knowlton, for all the help and guidance she's provided through the years, as well as my research professor andmentor, Michael Morse, for teaching me so much and giving me the amazing opportunity to participate in research as an undergraduate. Most of all, I'dlike to thank my boyfriend, Austin, for always being there through the past 4 years, through long nights of studying, and difficult finals, and helping methrough all of it.
Erin Davies
Master of Social Work
Gregory Boisvert
Political Science and Philosophy
Hopefully, I will be leaving Utah to pursue a teaching position on the East Coast, closer to family and friends.
I want to thank my mother for providing the means for me to get a higher education and I want to also thank my friends Walker, Michaela, Sydnee,Lauren, and others for giving me the will and support to finish.
Messages from University Leadership
#UofULavGrads
We've also created custom GIF stickers to use on your social stories to celebrate your graduation virtually! On any platform that uses GIPHY, search the keyword "UofULavGrads" and post to your feed. Any Instagram/Twitter post with the hashtags #UofULavGrads and #EDIgrads2021 will be shared by us!
How to find gifs & posting instructions